UK ambassador: Russia 'miscalculated in Ukraine' and actions are 'an affront to humanity'
The UK's ambassador to the Organisation for Security and Cooperation in Europe (OSCE), Neil Bush, has issued a statement this morning of his speech Russia and Ukraine, in which he said Russia had "miscalculated" their aggressive actions. He said:
Firstly, they have underestimated the resolve and heroism of the Ukrainian people, who successfully defended their capital and forced Russian invaders into retreat.

Secondly, they have underestimated the resolve of the international community; the result of this aggression has been to unite the free world in support of Ukraine, bolstering international cooperation and isolating Russia politically and economically.

And finally, they have underestimated the strength of the principle of sovereignty in the 21st century; President Putin's actions have only brought into sharper focus the right of all countries to determine their own foreign, defence and security policy.
Bush went on to say:
The Russian military's urban warfare tactics, which are reliant on heavy use of artillery, have generated extensive destruction. With every day that passes, evidence grows of the unspeakable savagery of President Putin's war of choice.

The OSCE has played, and will continue to play, a pivotal role in fact-finding efforts. Credible evidence of systematic rape, torture, abduction and butchery of innocent Ukrainian civilians by Russian armed forces is an affront to humanity. The international community has made clear that we will not rest until those responsible for atrocities are brought to justice – however long it takes.
Earlier this morning, Ukraine's former deputy defence minister Alina Frolova appeared on Sky News in the UK. She said that her country was determined to win the war, suggesting that they have something to fight for, and that the invading Russian forces do not.
She also spoke about the potential for Ukraine joining the EU, saying that a declaration that Ukraine could become a candidate country was important as it "about the political declaration that Ukraine is acknowledged as a European nation". She said:
We understand this is not membership, and that we have a long period in front of us to implement the requirements, but for us it is important from the moral point of view.
In the months since the invasion of Ukraine, Estonians, who share a border with Russia, are increasingly concerned about potential Kremlin aggression. More than 1,000 ordinary women have volunteered to join the Women's Defence Organisation since the conflict began.
Car mechanic Mari Klandorf is one. She now spends her weekends training in first aid, guerrilla warfare and firearms and says: "Russia might not be coming tomorrow, or the next day, but I want to be prepared."
Here is our video report from Kyri Evangelou:
Ukraine is expected on Thursday to hold a preliminary hearing in its first trial of a Russian soldier charged with raping a Ukrainian woman during Russia's invasion, the first of what could be dozens of such cases.
The suspect, Mikhail Romanov, 32, who is not in Ukrainian custody and will be tried in absentia, is accused of murdering a civilian in the Kyiv capital region on 9 March and then repeatedly raping the man's wife, according to court files.
Russia's defence ministry did not immediately respond to a written request from Reuters for comment, and the agency says it was unable to reach the soldier. Moscow has denied allegations of war crimes.
The UK foreign secretary Liz Truss has warned that the grain crisis in Ukraine must be solved by global leaders within the next month, otherwise the world could see "devastating consequences".
During a visit to Ankara, Truss said she had spoken to Turkish foreign minister Mevlüt Çavuşoğlu about cooperation between the two countries to ensure grain can leave Ukraine.
"This grain crisis is urgent and needs to be solved within the next month, otherwise we could see devastating consequences," she said during a press conference.
PA Media reports Truss added that the UK is offering its own "expertise" on ways to bypass a Russian blockade of Ukrainian grain. "It is going to require an international effort," she warned.
Çavuşoğlu said Turkey was taking seriously claims Ukrainian grain was stolen by Russia, and is investigating those allegations. He said Turkey would not allow grain stolen by Russia or any other country to be brought to Turkey.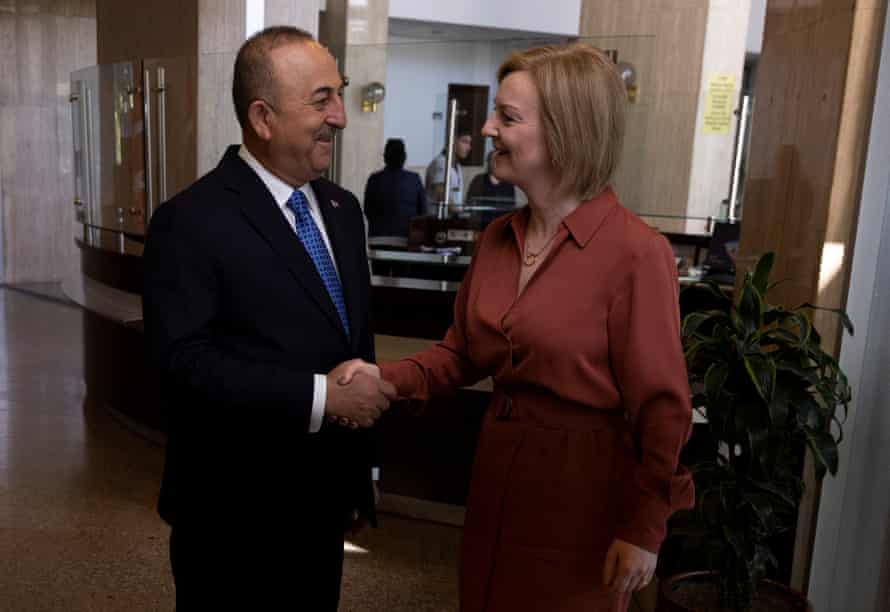 Truss accused Russia of "weaponising hunger" and using food security as a "callous tool of war" with its blockade of Ukrainian grain. Reuters quotes her saying:
Putin is weaponising hunger. He is using food security as a callous tool of war. He has blocked Ukrainian ports, and is stopping 20 million tonnes of grain being exported across the globe, holding the world to ransom

We're clear that commercial vessels need to have safe passage to be able to leave Ukrainian ports, and that Ukrainian ports should be protected from Russian attacks.

We support the UN talks, but Russia cannot be allowed to delay and prevaricate. It's urgent that action is taken within the next month ahead of the new harvest. And we're determined to work with our allies to deliver this.
The daily military update from the self-proclaimed Donetsk People's Republic (DPR) has been published. They claim that two people were killed and five more civilians were injured when Ukrainian forces shelled 14 of the 239 settlements the DPR claim to control. The claims have not been independently verified.
Jonathan Powell writes for us today. He was chief of staff to Tony Blair and Blair's chief negotiator on Northern Ireland. He says that Putin is not yet ready to end the Ukraine war, but when he is, we must be prepared:
The greatest guarantee of Ukraine's secure future lies in the EU's hands. If Ukraine is offered candidate status now and a clear track to membership, even if lengthy, then it will be far harder for Russia to invade again. This would also give Ukraine's government the levers and incentives it needs to fundamentally reform a system still too dominated by a corrupt Soviet-era legacy of oligarchs and kleptocrats. It is difficult for the EU, which is very aware of its past mistakes in letting countries in too early. But it knows Ukraine is a special case.
We also need to expand the current negotiation agenda. Early Russia-Ukraine talks were too stacked towards Russian demands in terms of territory and the neutrality of Ukraine. A new agenda needs to be balanced with Ukraine's priorities: justice for the crimes committed, rebuilding the country and recognition of Ukraine's territorial integrity. The issue of territory is, in the end, a zero-sum game. We will need to increase the pie to find ways to allow trade-offs. That requires a wider negotiation on the future of European security, including a new conventional forces agreement and a new relationship between Nato and Russia.
Read more here: Jonathan Powell – Putin is not yet ready to end the Ukraine war. When he is, we must be prepared
Also speaking out today is Dmitry Medvedev. The deputy chairman of the security council of Russia, and long-time ally of Vladimir Putin, has published a 600 word essay on the decline of western politicians, saying:
I have been communicating with foreign leaders for a long time and I see how much the level of western politicians has fallen. This has been happening right before my eyes for the last twenty years. It is obvious that in Europe there is not even a trace of political figures of the level of Helmut Kohl, Jacques Chirac or Margaret Thatcher.

No offence to anyone, but it is clear to everyone that Mario Draghi is not Silvio Berlusconi, and Olaf Scholz is not Angela Merkel. These are new people and a new, in my opinion, far from the best era of public administration.
Medvedev, who is often seen to be a mouthpiece for what the Kremlin is thinking, asks "would the current president of Ukraine show up for a meeting with president Chirac in a green t-shirt? Of course not. Absurd."
His verdict?
The problem of the degeneration of European politics is primarily due to the fact that it has become a pale backing vocal for American soloists. Charles de Gaulle could object to any American president. And now which of the Europeans will do it without shaking hands? They don't think about the future. They are limited only by their electoral prospects. The American leaders of the new wave also do not shine with fresh ideas and mental stability. And so it will continue.
Russia's foreign ministry has just published some typically combative words from foreign minister Sergei Lavrov, on the occasion of his meeting with the president of the Islamic Republic of Iran, Ebrahim Raisi. It quotes Lavrov saying:
All countries experiencing the negative influence of the egotistical policies of the United States and its satellites have an objective need to "reconfigure" their economic ties in such a way as not to depend on the whims and vagaries of our western partners.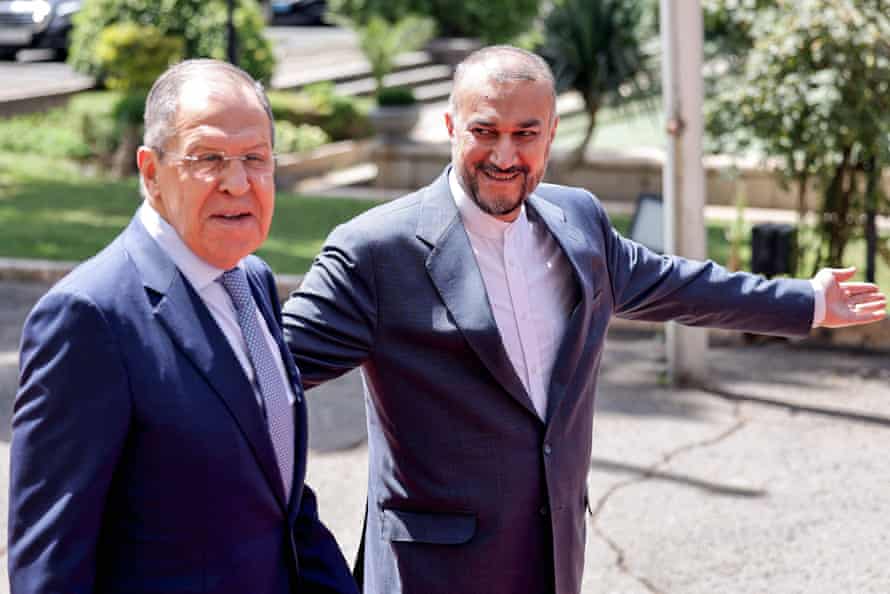 Britons sentenced to death in Donetsk preparing appeals – reports
Russia's Tass news agency is carrying a report that British citizens Sean Pinner and Aiden Aslin, alongside Moroccan Saadoun Brahim, are preparing an appeal against their death sentences.
Tass quotes Pinner's lawyer Yulia Tserkovnikova saying "my colleagues and I are preparing the full text of the appeal against the verdict in the interests of our clients."
British authorities have described the trial as a "sham", with one MP saying the men were essentially being held as hostages. The men argue that they were part of Ukraine's armed forces, and should be subject to the Geneva convention on prisoners of war.
The self-proclaimed Donetsk People's Republic (DPR) charged the men with "mercenary activities and committing actions aimed at seizing power and overthrowing the constitutional order of the DPR."
Lviv's governor, Maksym Kozytskyi, has posted his status update for the day, saying on Telegram that there was one air alarm in the area in the last 24 hours, and that 191 people arrived in Lviv via evacuation trains from the east of the country. He also stated that two people had been evacuated from the Donetsk region into hospitals in Lviv, one of them in a severe condition.
The governor of Dnipropetrovsk has accused Russia of using cluster munitions in the region. Valentyn Reznichenko posted to Telegram earlier:
Night again with shelling. The enemy struck the Kryvyi Rih district six times, insidiously aiming at residential neighbourhoods. There is the destruction of housing. The city is partially without light and water.

Cluster munitions remained in the streets and courtyards after the shelling. Rescuers took people to safety. I ask residents to be careful. And under no circumstances touch suspicious objects.
The claims have not been independently verified.
There has been an update from Serhai Haidai, Ukraine's governor of Luhansk. He has posted to Telegram the latest in Lysychansk, saying:
The city suffers from heavy fire from Russian invaders. In this direction, the racists concentrated more than a hundred multiple launch rocket system units. And there are so many artillery and mortars here that the Russians are simply covering entire neighbourhoods with heavy fire. Numerous casualties among civilians. Despite the total fire, the city is at the forefront of Ukrainian resistance to the occupiers. Lysychansk is defending itself!
The claims have not been independently verified.
Russian forces advance 5km towards Lysychansk: UK MoD
Russian forces are putting the Lysychansk-Sieverodonetsk pocket under increasing pressure by steadily advancing around the fringes, according to British intelligence.
Since 19 June, Russian forces have "highly likely" advanced over 5km towards the southern approaches of the Donbas city of Lysychansk, according to the latest UK ministry of defence report.
Some Ukrainian units have withdrawn, probably to avoid being encircled. Russia's improved performance in this sector is likely a result of recent unit reinforcement and heavy concentration of fire.

Russian forces are putting the Lysychansk-Sieverodonetsk pocket under increasing pressure with this creeping advance around the fringes of the built-up area. However, its efforts to achieve a deeper encirclement to take western Donetsk Oblast remain stalled."
Russian forces have reportedly captured the settlements of Loskutivka and Rai-Oleksandrivka south of Ukraine's twin eastern cities of Lysychansk and Sievierodonetsk.
The cities have been the focus of the Russian offensive in the region for the past few weeks.
An update released early this morning by Ukraine's general staff of the armed forces reads:
The enemy captured the settlements of Loskutivka and Rai-Oleksandrivka. Conducts assault operations in order to establish control over the settlement of Syrotyne. Carries out preparatory measures for the forcing of the Siversky Donets River."
Ukrainian forces continue the defence of Sievierodonetsk and the nearby settlements of Zolote and Vovchoyrovka, Luhansk governor Serhiy Haidai added.
A dog search team in the UK which specialises in recovering human bodies is stepping up its training ahead of an expected deployment to Ukraine.
Springer spaniel Bracken, sprocker Bramble and Dougal, a Labrador-springer spaniel mix, are travelling to Italy on Thursday to hone their skills while on standby for a trip to the war zone, PA Media reports.
Handlers John Miskelly, a British army veteran, and NHS nurse, Emma Dryburgh, have received a request to help in Ukraine but are waiting to receive confirmation that it is safe enough for them to travel.
They are part of Response Rescue International Scotland and their cadaver dogs, who are trained to detect the scent of human remains, would be assisting the work of the European Association of Civil Protection Volunteer Teams (Evolsar).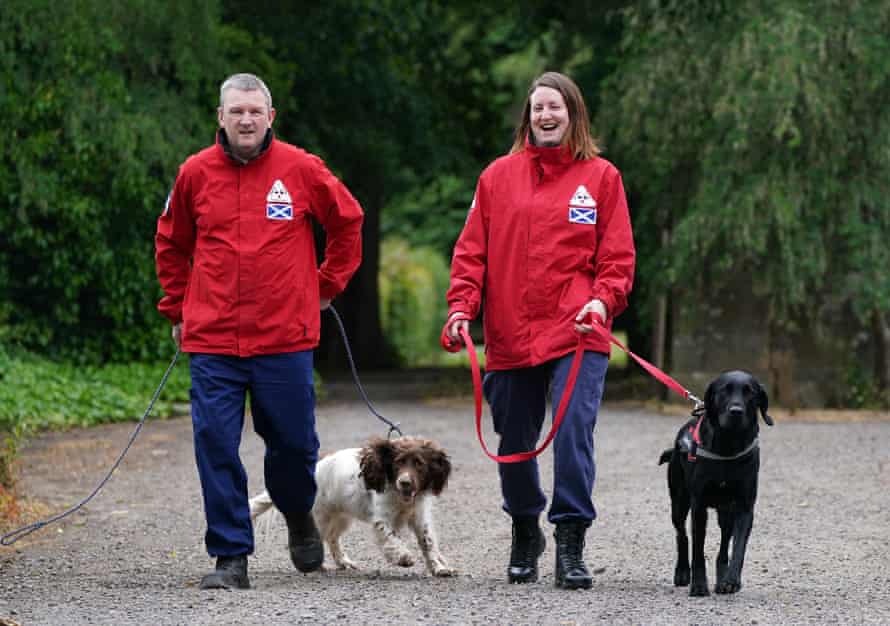 Miskelly, 54, told the PA news agency:
A request was put into us directly by a search, rescue and recovery team in Ukraine if we could assist in the recovery of bodies."
Referring to search teams currently on the ground in Ukraine, he added:
Those people are tired, weary, their dogs are wrecked, they're shattered. We're fresh handlers with fresh dogs and we even have a partner team in the Czech Republic in Prague who we will bring with us – so fresh handlers, fresh dogs. They're pleading for our help."
Miskelly said the team will undergo five days' training in Italy to help prepare them for the Ukraine deployment.
Russia aims to turn Donbas into Mariupol – Zelenskiy
Ukraine's president Zelenskiy believes Russian forces are attempting to destroy cities in the eastern Donbas region in the same way they did in Mariupol.
During a nightly address, Zelenskiy said:
In Donbas there are massive air and artillery strikes.

The goal of the occupiers in this direction remains the same – they want to destroy the whole Donbas step by step. Entire.

Lysychansk, Slovyansk, Kramatorsk – they aim to turn any city into Mariupol. Completely ruined."
Zelenskiy also called for parity on the battlefield in plea for more heavy weapons.
That is why we repeatedly emphasise the acceleration of weapons supplies to Ukraine. Parity is needed on the battlefield as soon as possible to stop this devilish armada and move it beyond the borders of Ukraine."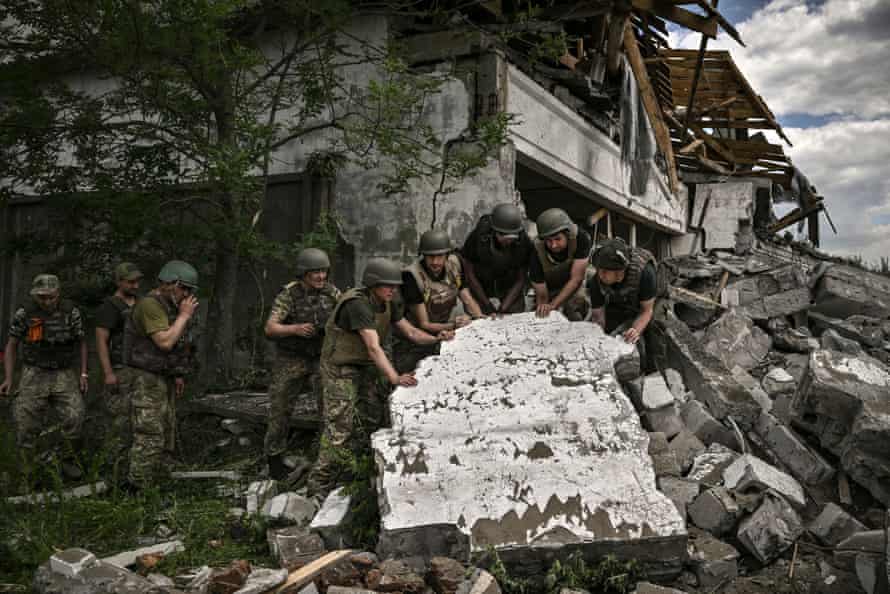 EU leaders to decide on Ukraine candidate status
EU leaders will decide today whether to grant Ukraine candidate status, following a positive recommendation from the European Commission last Friday.
EU leaders in Brussels are expected to sign off on last week's recommendation by the European Commission, the EU executive.
Ukraine's president, Volodymyr Zelenskiy, said he had spoken to 11 EU leaders on Wednesday about Ukraine's candidacy and will make more calls on Thursday, believing all 27 EU countries would support Ukraine's candidate status.
"We deserve it," he told crowds in Amsterdam via video link.
That is a very crucial moment for us, for some people in my team are saying this is like going into the light from the darkness.

In terms of our army and society, this is a big motivator, a big motivational factor for the unity and victory of the Ukrainian people."
Expectations for a yes have grown since four EU leaders, including France and Germany, which had been perceived as among the most lukewarm, visited Kyiv last week in a show of support.
Zelenskiy filed an application to join the EU five days after Russia's attack began. On a day when blasts were heard in Kyiv, he called for "immediate accession under a new special procedure". While the initial response from about 10 EU states was deeply sceptical, opposition has fallen away, although questions remain about the long road ahead.
Ukraine has been seeking EU membership since the 2004 "orange revolution" and more insistently since the 2013-14 Maidan protests, when the pro-Kremlin president, Viktor Yanukovych, was ousted after he refused to sign an association agreement with the bloc.
Granting Ukraine candidate status to join the EU would be a historic decision signalling to Russia it can no longer claim a sphere of influence over its eastern neighbour, Kyiv's ambassador to Brussels has said.
Vsevolod Chentsov, the head of Ukraine's mission to the EU, said Russia's war had united Kyiv with the bloc, while ending what he called a "mistake" about whether his country could belong to the union.
A survey published this week by the European Council on Foreign Relations, a thinktank, showed 57% of Europeans backed Ukraine's membership bid.
EU candidate status, which can be granted only if the existing member countries agree unanimously, is the first step toward membership. It does not provide any security guarantees or an automatic right to join the bloc.
Ukraine's full membership will depend on whether the war-torn country can satisfy political and economic conditions.
Hello it's Samantha Lock back with you as we continue to report all the latest news from Ukraine.
Here are all the other major developments as of 8am in Kyiv.
Russian forces are edging closer to seizing the last pocket of resistance in Ukraine's eastern Luhansk region. Sievierodonetsk and its neighbouring city, Lysychansk, continue to be battered by intense Russian shelling. Luhansk's governor, Serhiy Haidai, said on Wednesday that Russian forces were moving towards Lysychansk, targeting the buildings of police, state security and prosecutors.
Dramatic footage has emerged from Russia of what appears to be a drone flying into an oil refinery and causing an explosion in what could be an attack inside Russia's borders. Video shared on social media showed the unmanned aerial vehicle crashing into the Novoshakhtinsk oil refinery in Rostov region, in what would be an embarrassing breach of Russia's air defence systems.
A Russian missile strike has left at least one person dead in the southern Ukrainian port city of Mykolaiv, according to its mayor, Oleksandr Senkevych. The attack caused several fires and damaged a number of buildings including a school, Senkevych said. The regional governor, Vitaliy Kim, said seven missiles had hit Mykolaiv.
Residents and workers at a nuclear power plant in Enerhodar, a city in Ukraine's Zaporizhzhia region, are being abducted by Russian occupiers, according to the region's mayor. "Whereabouts of some unknown. The rest are in very difficult conditions: they are being tortured with electric shock, bullied physically and morally," said mayor Dmytro Orlov.
A television tower in the Ukrainian separatist-held city of Donetsk has been badly damaged by shelling and broadcasting has been interrupted, the local Donetsk news agency reported. The Petrovskiy television centre is still standing, but part of its equipment has been damaged, while some equipment has been moved out, the agency said.
British intelligence predicts that Russia's momentum will slow over the next few months."Our defence intelligence service believes, however, that in the next few months, Russia could come to a point at which there is no longer any forward momentum because it has exhausted its resources," British prime minister, Boris Johnson, told reporters.
Leaders at the upcoming G7 summit in Germany will announce new measures aimed at pressuring Russia as well as new commitments to shore up European security, a senior US official has said. "We will roll out a concrete set of proposals to increase pressure on Russia," the official said. The G7 is also likely to discuss the fate of a Russian turbine blocked in Canada and blamed for reducing gas supplies to Germany, Canada's natural resources minister said.
The Kremlin said the EU sanctions that led Lithuania to block the transit of some goods to the Russian exclave of Kaliningrad were "absolutely unacceptable". Moscow was working on retaliatory measures in response to the "illegal sanctions" by the EU, it said. Russia's foreign ministry said Moscow's response to Lithuania's ban would not be exclusively diplomatic but practical in nature.
Ukraine has played down the chances of reaching an agreement with Russia that could allow blocked grain shipments to start sailing across the Black Sea. Consultations are ongoing, Ukraine's foreign ministry spokesperson, Oleg Nikolenko, said. Russia's defence ministry said Moscow and Ankara had agreed to continue discussions on safe vessel departures and grain exports from Ukrainian ports.
Finland's armed forces chief said his country was prepared for a Russian attack and would put up stiff resistance in the event that one should occur. Finns are motivated to fight and the country has built up a substantial arsenal, Gen Timo Kivinen said, adding: "The most important line of defence is between one's ears."
Russian president Vladimir Putin has called for a strengthening of ties with countries from the Brics group of emerging economies – Brazil, Russia, India, China South Africa– after western sanctions over Ukraine. Putin said discussions were continuing on the "opening of Indian chain stores in Russia, increasing the share of Chinese automobiles" on the Russian market.
Russian foreign minister Sergei Lavrov visited in Iran on Wednesday. The Iranian foreign ministry said Lavrov's visit was aimed at "expanding cooperation with the Eurasian region and the Caucasus".
Europe needs to prepare immediately for Russia to turn off all gas exports to the region this winter, according to the head of the International Energy Agency, Fatih Birol. He called on governments to work on reducing demand and keeping nuclear power plants open.
A Ukrainian photojournalist and a soldier who was accompanying him were "coldly executed" when they were killed in the first weeks of Russia's invasion, according to Reporters Without Borders. Maks Levin and Oleksiy Chernyshov were reportedly searching Russian-occupied woodlands for the photographer's missing image-taking drone, the agency said, citing its findings from an investigation into their deaths.