A good example of Putin's doctrine is Russia's global hunger games. Russia is using food shortages and hunger as a weapon of war, blockading the Ukrainian ports through which wheat, maize and sunflower oil are shipped to Africa, Asia and the Middle East, normally a big share of imports into those markets.
The absence of a quick end to the invasion has raised concerns that the war and its impact will be drawn out. After its attempts to capture Kyiv were repulsed, the Russian army reverted to World War I-type attritional tactics, using a huge advantage in artillery to take territory, destroying city blocks, villages, roads, infrastructure and farmers' fields meter-by-meter.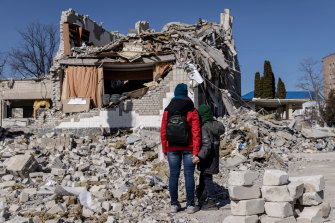 We hear calls from some quarters for Ukraine to submit to compromise with Russia, or to make concessions to it, in the interests of saving lives or – more incredibly – Mr Putin's face.
But a temporary ceasefire would only present a breather for Russia, allowing it to regroup for new offensives. Any assurances from Russia to the contrary should be taken with a large bag of salt: in 1994, we signed an agreement to transfer to Russia the former Soviet Union's nuclear weapons on our territory in return for guarantees – broken in 2014 – not to violate Ukraine's territorial integrity.
In the meantime, as Russia cements its grip on occupied territories across an area the size of England, local people face kidnappings, torture, rape, deportations and murders, as well as theft of property and erasure of Ukrainian culture and identity.
The Ukrainian government cannot stand by and allow its citizens to be subjected to genocidal abuse that no ceasefire or territorial concession will protect them against. It is no more proper to ask us to give away sovereign territory than for an outside power to demand possession of, say, Queensland or Tasmania. The best and only way to end the conflict is for Russia to end its invasion and leave Ukraine, as demanded by the overwhelming majority of countries in the UN.
For the international community, it is also vital that Russian aggression be defeated. Freezing conflict or making territorial concessions would merely reward unprovoked aggression. It would mean reverting to the law of the jungle where the big can eat the small with impunity.
Australia has already suffered directly from Russian aggression in 2014. Thirty-eight Australians were among the 298 passengers and crew who died when Russian forces shot down flight MH17. The perpetrators of the crime are now hiding with impunity in Russia.
The days when empires and nations invaded their neighbours or faraway lands to win territory were declared over with the adoption of the UN Charter in 1945. While we have seen many other conflicts since then, in no instance has the global community condoned or encouraged the acquisition of recognised independent territory through force.
Loading
Australia has been a staunch supporter of the international rules-based order with respect for sovereignty and territorial integrity at its core. Australians well understand that these principles underpin the security and prosperity of the Indo-Pacific region as well as of Europe.
We therefore ask all our friends, including Australia, to maintain their support for our efforts to repel aggression. Our troops desperately need more artillery and ammunition, armoured personnel carriers and multiple launch rocket systems to even up the odds and liberate our land.
As we defeat the aggression, we look forward to a time when Australia can take part in the reconstruction of Ukraine. There will be many opportunities for Australia where it has world-class expertise, including in agribusiness, mining and green energy.
We are shaping a civic identity based on multiculturalism, much as has Australia, embracing other identities in our society, including Jewish and Muslim citizens, Crimean Tartars and other indigenous peoples of Crimea. Our President is of Jewish origin. The head of Ukraine's frontline Mykolaiv region, Vitaliy Kim, is a proud Ukrainian-Korean. Ukraine is also one of the most religiously diverse countries in Europe. We are proud of our ethnic and religious diversity and see it as a great asset of the Ukrainian nation.
Loading
I firmly believe that, as our two countries get to know each other better, Australians will take Ukrainians to heart, sharing our independence of spirit, down-to-earth humour and deeply held democratic values. I have no doubt that we will even become the best of mates.
We look forward to welcoming Australians and all our friends to Ukraine as we restore peace and prosperity. As I told Senator Wong, it would also be an honour and pleasure to receive her and Prime Minister Albanese in Kyiv at an early opportunity.
Cut through the noise of federal politics with news, views and expert analysis from Jacqueline Maley. Subscribers can sign up to our weekly Inside Politics newsletter here.